Live streaming opens up a window to your world. That's probably why they've become so enticing as part of a wedding celebration. Brides magazine suggests live streaming your wedding is the next best thing to being there. They have a point; for guests unable to travel to your big event, wedding live streaming is the perfect alternative. Perhaps that's why live streaming your wedding services is now common for many brides and grooms.
If you're considering streaming your wedding ceremony, we have tips that will help you pull it off.
What is Wedding Live Streaming?
Having a streaming wedding ceremony means that you use a video conferencing solution to run a live feed of your event online. With this technology in play, everyone can attend your wedding, even if they can't be there physically. Given that many couples have destination weddings, this gives those unable to find the time or money to attend an alternative way to participate.
A streaming wedding ceremony is also a great tool if you're trying to save money by utilizing a smaller venue, having fewer meals to cater, and so on. You could do a small, intimate wedding, but open a live stream to dozens of your non-intimate circle. For these reasons, we anticipate that wedding live streaming is only going to increase in the future.
Wedding live streaming is just the latest in a growing list of technology tools that we're using to enhance our events—and that includes weddings. Remember photo booths? So 1990s! Drone photography is hot, too, even if you aren't a paparazzo trying to sneak a pic of a celebrity. It makes sense, especially since we've all grown accustomed to virtual meetings and events, that we use these tools for our weddings, too. According to Brides magazine, "[Wedding live streaming] can come into play when family members are ill and can't travel to the venue, can't afford to attend, or are otherwise tied up."
So, how does live streaming your wedding work?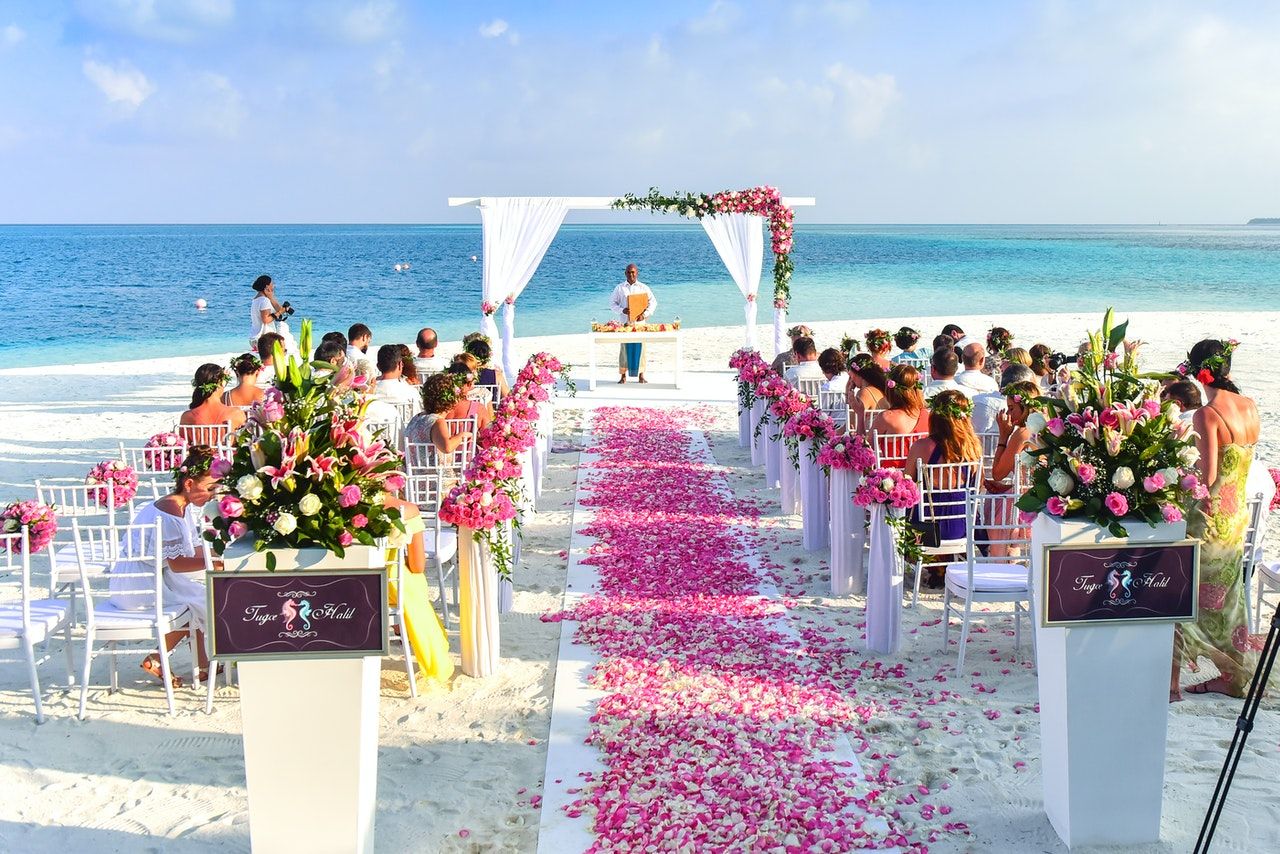 How To Live Stream Your Wedding Services
If you've done Facebook Live, you already understand the concept of wedding live streaming. Public live streaming platforms on social media are one way to live stream your wedding services. However, these platforms are often less-than-professional, lacking the attention to detail and customer support that you're probably seeking for your wedding event. Do you really want to leave your wedding live stream up to an amateur videographer wrestling with a random social media platform? Also, if you're going for a free service, the number of attendees is usually limited by the video company.
We recommend professional wedding live streaming services, to ensure your event is covered properly. No matter your decision, there are several steps necessary to live stream your wedding. For example:
·         Get permission from the people appearing in the wedding, especially if you're broadcasting to the masses. Some live streaming providers, such as MegaMeeting, offer the ability to record and offer the event as an on-demand service. Make sure everyone from your wedding party, your videographer(s), your DJ or band, and even your wedding officiant are okay with being recorded and broadcast live. It's a good idea to ask people to sign a waiver. If you use a professional videographer, they can probably help you with this.
·         Select your wedding live stream platform. Make sure the vendor is well-established and broadcasts in high-quality HD. The platform should be encrypted and highly secure. While you're at it, also check the internet connectivity of your venue, just to be safe. Finally, look for a vendor that does not require anyone to download an app to view the live stream. Instead, use a web-based live streaming wedding provider so that your viewers simply click a link to watch.
Test the technology well in advance to be sure everything works well together. You'll need a high-quality camera or, even better, a professional videographer to film the event and direct it up the pipe to the internet live stream. Your vendor should have microphones and external cameras to create a professional event. It's a good idea to use multiple external cameras to get the best shots during the live stream. It is important that you make sure your live streaming solution works well with all of these tools.

Best Practice Tip #1: Make sure to administratively turn off guest interaction features so that everyone stays on mute during the ceremony; otherwise things could get awkward!
Best Practice Tip #2: Live streaming depends on a good, strong internet signal. Find out if your venue has a dedicated network that you can run the event through. If it's a public signal, you may want to hold back on sharing the Wi-Fi password with your in-person guests to ensure the best possible signal.
We think it's a good idea to also make the live stream event a backup to the real thing. You could include the two options for on-site live versus live streaming (for those who can't attend in person) on the invitation. Or, you could send a note to anyone that declines the actual event with a link to the live stream.
Wedding live streaming also is helpful if you have to reduce your on-site attendance due to COVID-19 venue restrictions. This is particularly a good option today, when COVID is still a bit of a roller coaster and public venues are changing the rules as we write this.
One of the biggest questions we often hear is how much does marriage live streaming cost? The cost of a wedding live stream varies wildly, from free to thousands of dollars. The bigger question when considering the cost of your wedding live stream, is what is your budget? You could have a friend run the live stream with external mics and a camera or two for free and use Facebook. But does this make sense?
If you're spending big bucks on the perfect event, budgeting a little more for a professional live stream is just as important as hiring a wedding photographer or a caterer that will create a rich, luxurious meal for your guests. Don't skimp on the live stream and you'll be happier because even your guests that aren't able to attend will experience at least some of what your on-site attendees will enjoy.
If you're a videographer looking to live stream weddings, MegaMeeting could be your wedding live streaming service provider. Our prices are highly competitive and our secure, HD, web-based professional video conferencing service is the perfect icing on the wedding cake. Talk with our team today.
---

MegaMeeting solves the biggest challenges of modern video conferencing. For users, it is an all-in-one platform that delivers both video conferencing and webinars in a single, simplified interface. For attendees, it is 100% browser-based, making it highly accessible; joining a meeting is instantaneous from a single click. For enterprises, it is highly customizable, with white-labeling options for a private branded solution. For developers, it is API-driven and easy to integrate.
Powered by WebRTC, Node.js, React, and GraphQL, it is a cutting-edge platform that is fun and easy to use for users and developers alike.