We are two years into the COVID pandemic, and six in 10 American workers are now telecommuting from home at least part of the time. These workers have made the transition successful, in part, by having the right equipment in place in their home offices. If your next job takes you only as far as the desk in a spare bedroom, you'll need to meet various work-from-home computer and office requirements. While working from home shouldn't break the bank, equipment-wise, what pieces of computer equipment should you consider?
Getting Started: What Do I Need to Work from Home?
Wirecutter says you need just three basic things to launch your work-from-home adventure:
·         A computer
·         A high-speed internet connection
·         Electricity
Most companies will provide you with at least some of these items. However, working from home for the long term requires a few more tools to facilitate communication and your comfort. The idea is not just that you work from home, but that you work from home comfortably.
Wirecutter further tackles this issue, as well, listing the following as nice-to-haves in your home office setup:
·         Computer—They recommend a laptop for its mobility. A laptop can provide a change of scenery instead of being tied to an office chair.
·         Keyboard—Bluetooth or wireless keyboard connects to the computer via a Wi-Fi signal. This cuts down on the number of cords hanging in your home office. But the keyboard should also be ergonomically designed to protect the hands and wrists while typing.
·         Mouse—Specifically, a wireless mouse, for the same reasons mentioned above.
·         Docking station or USB hub—Most laptops these days are designed to be as lightweight as possible. This means sacrificing some of the ports we used to see as a standard feature of these devices. If you want to plug anything into your laptop now, you need either a USB-C cable (but you already know how we feel about hard wires) or a docking station/USB hub. These are compact external devices that allow you to plug in monitors, your phone, a drive for hard backups, and more.
·         Headphones or a headset—What you purchase here will depend on the job. You can opt for noise canceling headphones if the screaming children in the living room keep you from heads-down work. A headset is more of a standard feature when you're in a sales role or are talking frequently online. Yes, you can get these in both wired and wireless versions. Depending on your choice, you may need adapters or a USB-C cable to connect these tools to your laptop.
·         Dedicated webcam—If you're video conferencing frequently, a dedicated webcam will help place your face in the right frame. For some jobs, such as sales, recruiting, HR, or the C-suite, how you look on camera will affect your success in the role. (Don't forget to either use a virtual background or tidy up behind you!)
While these are good baseline suggestions for the hardware you'll need, we should also mention that a good chair for your home office is just as important as your laptop equipment. Just about any computer chair is better than a kitchen or dining room chair or a couch, but since you spend so much time in it, investing in a good, ergonomic, and comfortable seat will save your spine.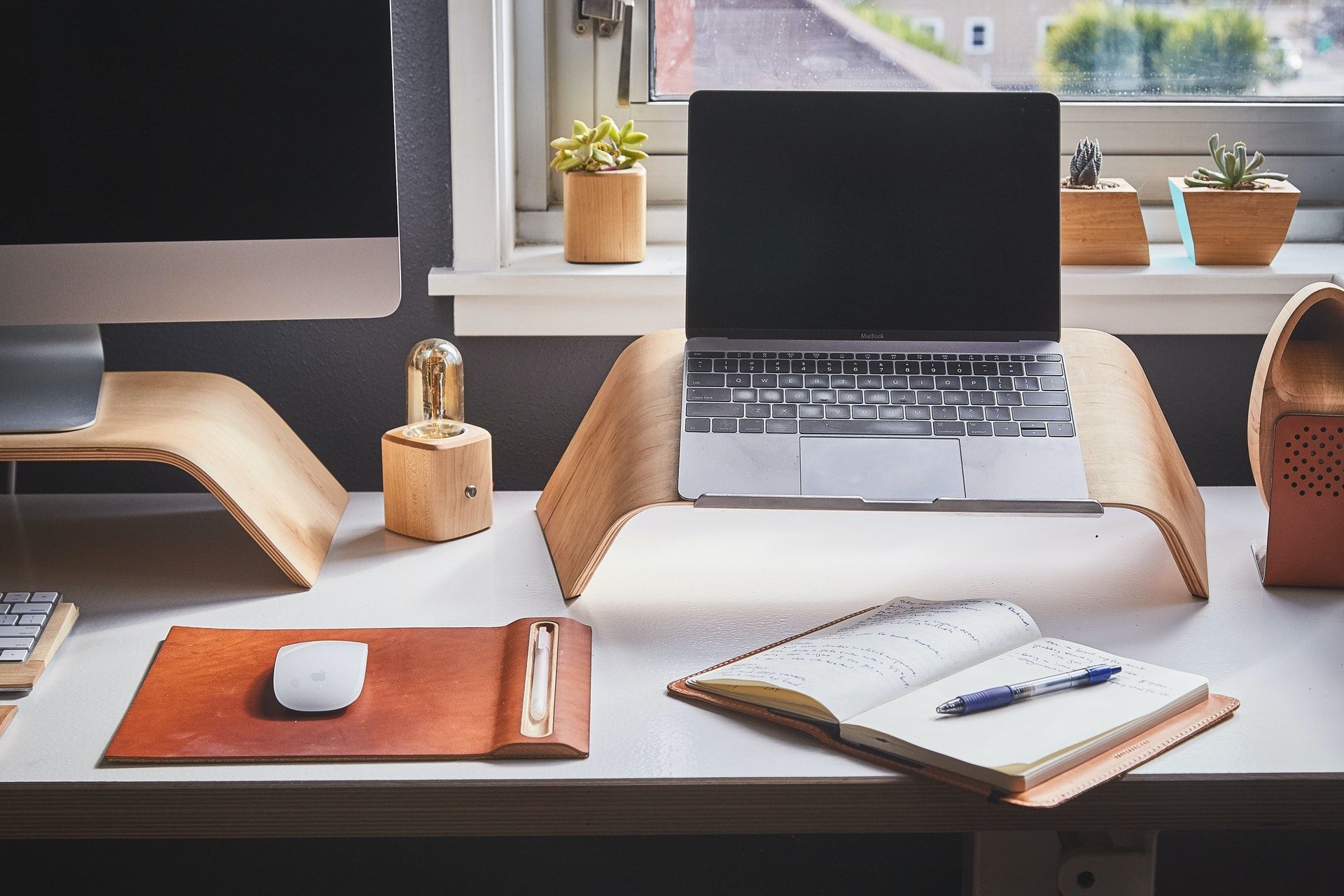 Work-from-Home Computer Requirements
Now let's talk about the kinds of computing horsepower you'll need to transition to a fully remote lifestyle. Unquestionably, the most important tool at your home is the computer you use, although your internet and perhaps the video conferencing and phone solutions you select follow closely on its heels.
Your company may provide the computer equipment. If they don't, or if you're a freelancer, you'll need to carefully consider the specs for the system you'll need. From a hardware perspective, many times companies favor either PC or Mac. You can add Windows to a Mac, sometimes as part of a virtual desktop, for example, but that might eat a lot of bandwidth on your computer. If you're freelancing, personal preference may guide your decision.
Laptops are great for their versatility in allowing work anywhere where there's Wi-Fi, but your job may send you a desktop. In that case, invest more in your office setup, because that's where you're going to work 100% of the time.
If you're lap-topping it, consider that not all of them can handle the heavy lifting some jobs require, like coding or design. For example, Chromebooks are pretty bare-bones, but a Mac or a Dell PC (one example) can be souped up with more storage, a better processor, and can connect to a 5G network.
Speaking of 5G, one of the most critical work-from-home computer requirements is your internet connectivity. Selecting the right internet for your region is important so you don't drop calls or lose connectivity on a video conference. Also consider that your company may require you to use a voice over IP (VoIP) phone, which takes more bandwidth. Either way, do your homework.
But what about software? The job itself will dictate what tools you need. Generally, the best work-from-home software requirements includes software-as-a-service (SaaS) products with features that are:
·         Easy to use
·         Low-cost
·         Powerful
·         Versatile
The goals of these tools in a work-from-home setting are to allow dispersed teams to collaborate and communicate to get the job done. Some of the best tools we've seen include:
·         Project management tools such as Microsoft Teams, Trello, Basecamp, Github, or others that allow teams to communicate, organize, store files, and add/check off tasks.
·         Instant messaging tools like Slack for fast communication. The power of a virtual chat is that it replicates those hallway or kitchen encounters that we used to have in an office. They're the equivalent of "Hey, I have an idea," which helps keep innovation going no matter where you're working that day.
·         An office productivity suite. While Microsoft's 365 package is unquestionably the leader in this space (and has been for years), Google's tools are really quite good. These tools allow you to run the numbers or write a report, and they're a necessity for getting things done in the modern office.
·         A web-based video conferencing solution like MegaMeeting. Our secure, HIPAA-compliant video conferencing solution allows you to do more than just see your coworkers on the screen. We offer chat for quick conversations. You can run a live meeting or record a video webinar to view at a later time. MegaMeeting is simple and easy to use, but highly powerful, with the ability to ramp up huge meetings or small ones at the touch of a button.
MegaMeeting wants to be part of your home office solution. Contact us today to start your free trial of our service.
---

MegaMeeting solves the biggest challenges of modern video conferencing. For users, it is an all-in-one platform that delivers both video conferencing and webinars in a single, simplified interface. For attendees, it is 100% browser-based, making it highly accessible; joining a meeting is instantaneous from a single click. For enterprises, it is highly customizable, with white-labeling options for a private branded solution. For developers, it is API-driven and easy to integrate.
Powered by WebRTC, Node.js, React, and GraphQL, it is a cutting-edge platform that is fun and easy to use for users and developers alike.