Your customers want answers and they want it yesterday. No matter your target audience, the immediacy of the Internet has trained your customers to seek and expect answers to their questions quickly. The chances are high that they have little patience for calling a number and waiting in a queue for customer service. Fortunately, if you use the right video conferencing solution, like MegaMeeting, you can embed a video chat feature right into your website for video customer support.
Video chat customer support features offer your clients the immediacy of real-time support. This will improve the customer experience and help you retain more clients for the long haul. Since the cost of bringing in new customers is higher than that of retaining the old ones, video chat customer service features can help you respond quickly to anything your clients need and therefore keep your current client base very happy and your customer acquisition costs down.
Using Video Customer Support Features on Your Website
Even before the events of 2020, a Vonage study reported that video calling was quickly becoming the preferred method of communication. By May of 2020, six in 10 Americans reported using video chat regularly; 38% of current users report leveraging these tools for the very first time during the COVID-19 pandemic.
As a tool, video chat is replacing some of the traditional methods of communication between your customers and your customer service workers. Some of the benefits of these tools include:
·         A personalized one-on-one experience for clients. The use of video chat customer service tools lets your clients ask multiple questions and engage directly with your company.
·         Immediate support. Instead of opening a trouble ticket or waiting on the line for a customer service rep to answer their phone, a video chat allows your customer to interact more quickly with someone who has answers.
·         Increased sales. With the customer taken care of in a more timely and satisfactory way, they will be more likely to make an additional purchase or refer others who become customers. Video chat also allows the customer service rep an opportunity to close additional business with their customers.
·         A more satisfied customer. Leveraging video chat customer support tools keeps your customers satisfied and coming back for more thanks to top-notch customer support.
Video chat can improve your customer experience. But not every instance of video chat is successful. How can customer service and support teams use online video customer support in the best possible way to engage their clients?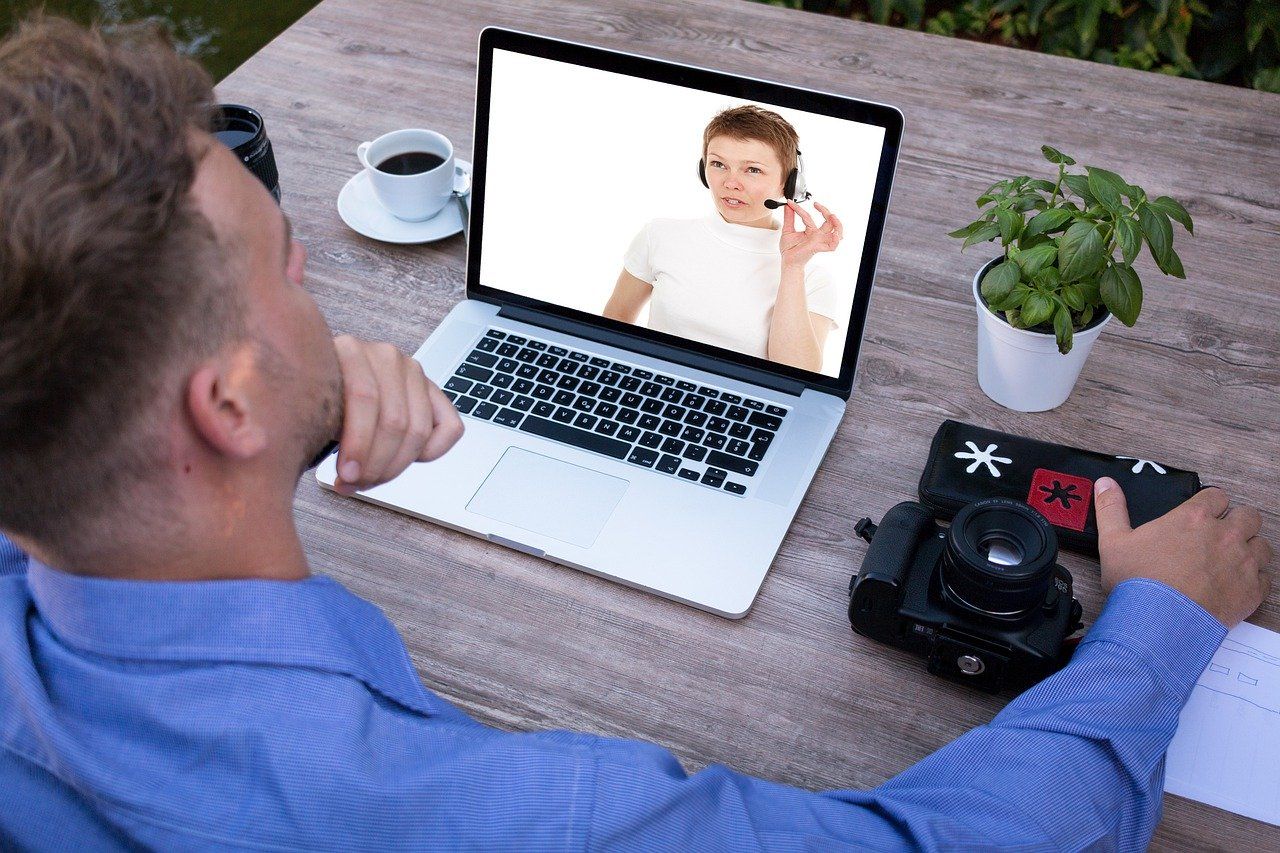 5 Video Chat Customer Service Tips
Like any customer service interaction, your video chat can go poorly or perfectly, depending on the skills of the customer service team. Here are some tips to improve the experience for the perfect video chat every time:
1.      Offer prompt, personalized interactions. Video chat can offer one-click, real-time support that can identify problems faster and deliver a solution on the first try. Working one-on-one with your customer allows a level of personalization you don't get with a chat-bot or even with an email. It's the immediacy and intimacy of the interaction in real-time that allows you to use these tools effectively.
2.      Embedded video chat customer support allows your target audience to click a link and ask for help straight from your website. Placing that embed on the right pages of your website means that the customer will understand that you've made every effort to support them. It tells customers that they matter and are important. This builds loyalty. You can place the live video chat widget  across the sales, home, contact, and pricing pages of your site. You can also make it functional with a single click or tap from any computer, laptop, mobile device or phone.
3.      Develop training for your customer service teams to respond to certain common triggers with an engaging level of dialogue. Train your teams to handle common customer experiences such as:
i.      Repeat customers
ii.      A hesitant first-time buyer
iii.      Customers from specific geographies
iv.      Customers with Frequently Asked Questions (FAQ)
Train your teams to overcome objections by addressing customer pain points with the features and benefits of your product. You can reduce cart abandons with some automated scripting featuring a personalized message. You can also train your customer service teams to use video chat to close more business.
4.      Use the right live chat etiquette to improve customer satisfaction. Just like any customer service call, video customer support requires the right approach to make it successful.
For example:
i.      Setting a positive tone where you listen more than you talk will help the customer feel heard.
ii.      Tell the customer you value their business and thank them for taking the time to chat. Let them know you'll do your best to help.
iii.      Give them one-contact resolution. This is something that your customers expect; in fact, they will be impatient with anything less.
iv.      In the end, always ask for feedback. Make sure your marketing teams are capturing this data to help improve not only the customer experience but the products themselves.
5.      Use screen share, sometimes called co-browsing, to help your customers solve technical issues. Co-browsing is a great feature that educates the client in a kind of hands-on tutorial that will help them with everything from browsing your website to checking out their cart. Interacting in this way in real-time is a great way to solve problems that frustrate many customers. Proactively teaching and coaching while showing customers the proper way to use an eCommerce website, for example, will earn their gratitude and trust in a way that few other customer service interactions can match. It will likely cut down on the volume of frustrated customers in the long run, while building loyalty to your brand.
Video customer support is the new normal today. We know that providing customer service is not an easy job. Embedding video chat on your website gives your customer service teams an efficient tool that will help them keep customers happy. Email and phone calls take more time than your customers have the patience for. Video chat customer service is the new best practice standard for today's video conferencing savvy consumers. When implemented properly, these tools will help your business earn new and retain existing customers for the long haul.
MegaMeeting is standing by with next-generation WebRTC video chat and conferencing services. We are browser-based and fully customizable, meaning you can embed these tools directly onto your website for a truly seamless, effective customer service experience. Find out why we're different from generic commercial video conferencing solutions. Contact us today.

---
MegaMeeting solves the biggest challenges of modern video conferencing. For users, it is an all-in-one platform that delivers both video conferencing and webinars in a single, simplified interface. For attendees, it is 100% browser-based, making it highly accessible; joining a meeting is instantaneous from a single click. For enterprises, it is highly customizable, with white-labeling options for a private branded solution. For developers, it is API-driven and easy to integrate.
Powered by WebRTC, Node.js, React, and GraphQL, it is a cutting-edge platform that is fun and easy to use for users and developers alike.