The conditions of today require the embrace of virtual conferences. The COVID pandemic is still far from over, and work-from-home policies are persisting. This means many of our meetings are still not face-to-face, but instead virtual, since millions of people are still working from home. Virtual conferencing, it seems, is here to stay.
One of the most common questions we hear from virtual meeting participants is, "What is the best background for video conferencing?" Choosing a backdrop for your video meeting can make a personal or professional statement—sometimes both. This blog will help you choose the best virtual background for your next work-related video conference.
Why Does a Professional Background for Video Conferencing Matter?
Without a professional background behind you during your next work video conference, whoever joins you in your next meeting may judge you for the state of your home. A messy, cluttered background may leave the wrong impression, as could your wall art, or a stray child running with just their diaper on behind you. You may be dressed nicely, but if your space is disordered, it will leave a lingering impression (perhaps not a good one) with your client, coworkers, your boss, or whoever else is in the video conference with you.
Let's face it; the pandemic has us working from kitchens and bedrooms, and we're sharing space with family members, many of whom are also home. This means your work colleagues and clients now get to see into your private life in a way they haven't in the past. It can be disconcerting when you start to think about it, and the reality is you simply may not want to let so much of yourself show. That's why you need a professional background for any video conference you conduct.
In the same way you might inadvertently judge the other people on the video conference, they're also looking at the space behind you with a critical eye. When considering a virtual background for video conferencing, you should consider how the setting reinforces your competency as an employee. For example, if you're a project manager, your space should reflect your organizational competency and attention to detail. If you're a designer, it's likely the person on the other end of the call will try to get a sense of your visual style from the space you're working in.
Try to give some thought to what your office environment was like before the pandemic. Was it ultra-professional, super casual, or somewhere in between? It's okay to make sure you're still fitting in with your team's corporate culture by selecting the professional background for your video conferences that work with your organization and the people you work with.
Ultimately, you do want to try to professionalize your backdrop as much as you can, whether it's with a virtual background or by just making sure your office space is appropriately decorated.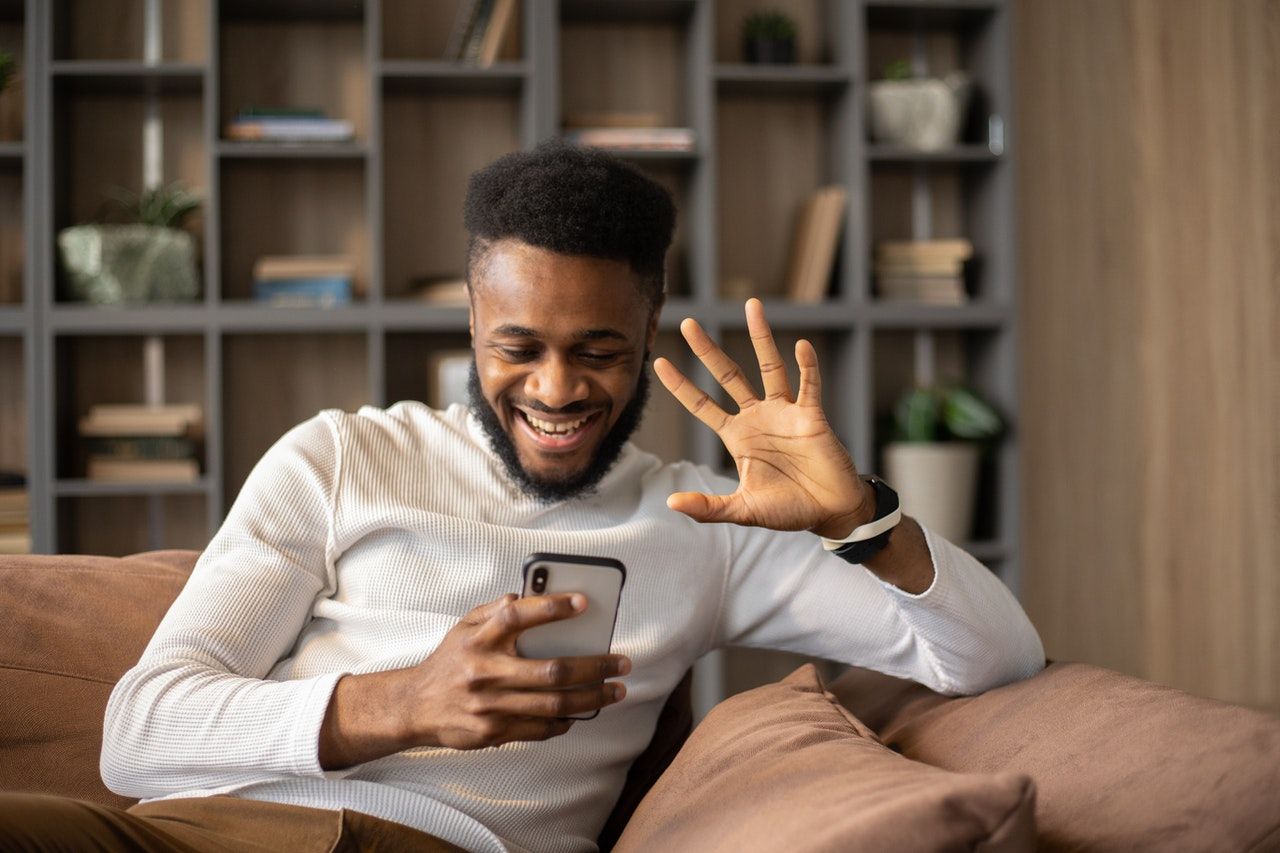 Is There a Best Wall Color for Video Conferencing?
Neutral colors always work best if you're not using a virtual backdrop and instead opting to share the view of your home. Plain neutral walls with a bookshelf or two, plants, and a piece of art show that you are (perhaps) well read and have a green thumb. At least, that's the impression you can leave.
If you're stuck doing the call at your kitchen table, a plain brick wall or a bright yellow could let just enough of yourself show on the video conference. However, if you can, turn the camera away from the pile of dirty dishes in the sink.
If you don't want to paint an entire room, you could just paint an accent wall. Try to pick a color that embodies energy and productivity, without feeling too busy. Green is a refreshing color and blue is generally calming, for instance.
Also, keep in mind, if you're adding artwork to the walls, make sure the pictures are appropriate for the kind of video conference you'll be participating in. As part of this decorating process, consider bringing more natural light into the space, if possible. Declutter your space and create a bright, airy room with white or neutral colors. These colors reflect the light well and give you more control over the amount of brightness you use in the room. Dark, heavy colors can seem gloomy and oppressive. The same can happen if your lighting is too low.
What is the Best Background for Video Conferencing?
You probably thought you could just turn on your video camera, right? Wrong. You should take note of how you look, how the room looks, and how you sound. Should your mic be louder? Is the room too shadowy? Adjust your background in a way that flatters your face and makes you look your best.
The best professional background for video conferences can represent who you are without being too outside what's appropriate for work. When you're choosing a virtual background for video conferencing ask yourself a few questions to help figure out what will work best:
·         How will the backdrop look with your hair and skin tones? If you are African American with dark hair, it might be good to have a lighter background for the contracts. Light-skinned people with blond hair may want that darker background. Experiment a little to see what works.
·         Can you see the back of your chair behind you in addition to your head and shoulders? If you can, it may morph into the virtual backdrop and look weird. You can cover the chair with a towel that matches the backdrop color—that should help.
·         What should you wear? Try to wear clothes that are darker or lighter than your background for contrast.
·         Is the background too busy? Too much detail and you will get lost and it will make it harder to see you.
Is the answer just to blur the background? Maybe! Some people find a blurred background distracting and say it makes their eyes tired. No matter what professional background you choose for your next video conference, make sure you check with the service to see what backdrops they offer as part of their package.
MegaMeeting is a leading provider of video conferencing solutions. Talk with our team today to find out how we can help you create a more professional environment for your next virtual meeting.
---

MegaMeeting solves the biggest challenges of modern video conferencing. For users, it is an all-in-one platform that delivers both video conferencing and webinars in a single, simplified interface. For attendees, it is 100% browser-based, making it highly accessible; joining a meeting is instantaneous from a single click. For enterprises, it is highly customizable, with white-labeling options for a private branded solution. For developers, it is API-driven and easy to integrate.
Powered by WebRTC, Node.js, React, and GraphQL, it is a cutting-edge platform that is fun and easy to use for users and developers alike.