By now you've probably heard about how NOT to setup video conferencing. Have you heard the one about the woman who forgot she was video conferencing and went to the restroom on a live call? What about Zoombombing? Is the best part about your next video conference the chance to see your coworkers' weird wall art? All of these are examples of video conferences that might not be quite as successful as you'd hope. So, how can you avoid these mistakes?
Like any work event, the best setup for video conferencing requires a well-thought-out approach so that the meeting runs smoothly, sans embarrassment for anyone involved. Here are our best suggestions for how to setup video conferencing to make the best use of your time and technology.
Video Conferencing Setup Guide 101

According to Reuters, Microsoft reported that usage of their video conferencing app surged by 1000% in March, and Zoom's daily participants exploded to more than 200 million. Similarly, MegaMeeting can also attest to a huge upsurge in business, thanks in no small part to people working from home and wanting new ways to connect with prospects, clients, co-workers, family and friends.
Today, the COVID-19 pandemic has made video conferencing almost as normal as texting — but you still may not be doing it right. Providers, too, have been caught flat-footed by unprecedented demand and security glitches that have made it possible for hackers to interrupt and disrupt meetings.
Establishing the best setup for video conferencing is just as important as finding the right video conferencing provider. You don't want your next video conference to go viral for all the wrong reasons, so follow these rules to get the most out of your online meeting.
Establish Your Go-to Space for the Video Conference.

Remote work is the new normal, so if you haven't found a quiet out-of-the-way space to hold your next online meeting, take the time to do so now. Remember that you are facing the camera, but that the background behind you can be seen. Sit at about an arm's length from your camera, but then look behind you to see what the other viewers will notice. Consider these areas of your background:
·         A bookshelf will make you look smart, but if the book titles are less-than appropriate for prime time, trust us, someone from your office will notice.
·         It's okay to have art on the walls, but pay attention to the kind of impression it will give to your coworkers.
·         One option is to set your workstation up with a blank wall behind you, or tilt your camera or screen up toward the ceiling.
·         Don't move your camera around during the call; you may give viewers motion sickness. This is especially important if you are using a portable device, like a laptop, tablet, or smartphone.
·         Clean up the area behind you so you don't have dirty laundry or something else that no one wants to see on the screen.
·         It's also a good idea to make sure you have lighting around you. You don't want your head to have a corona, so don't have the camera pointing directly at a window; that kind of backlighting can make it hard to see you. Try adding lights to either side of your head at about eye level to improve the viewer field of vision and to properly show your facial expressions on camera. Experiment with this; lighting is often the trickiest part of video conferencing.
·         You could even add a virtual background, which is a simple setting that many video conferencing services offer.
If you have more time to create a more permanent setup for video conferencing, you can add a professional backdrop with a screen or a curtain. In any case, don't allow the camera positioning to be an unprofessional distraction for other participants.
Check Your Video Conferencing Settings
One of the biggest issues with Zoom, which allowed hackers to break into video conferences, was that the default settings on the tool allowed it to happen. Novice users didn't realize they should set up a waiting room or disable the functions that allowed hackers to take control over video. Standard settings on most video conferencing tools allow:
·         Mirroring, which matches the left-right divide on your body with what other participants are seeing. This helps prevent miscommunication.
·         Muting yourself upon entering a video conference should be standard. It's also important and helpful to keep your mic on mute whenever you aren't speaking.
·         Automatically adjusting audio should help keep the sound of your voice modulated, and not too loud or soft. However, if you find that your coworkers are complaining that they can't hear you, you may want to check these settings.
Always check your equipment setup before the video conference to make sure your application or browser is connecting properly to your camera and microphone, whether they are built-in to the device or external.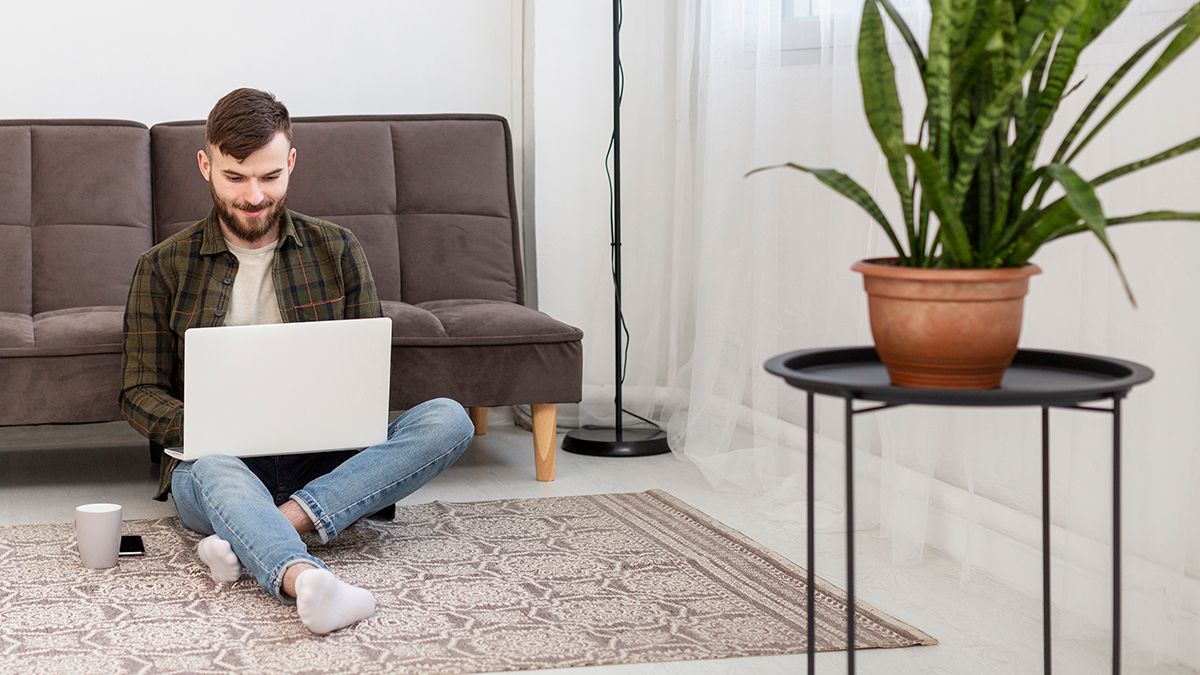 Reduce Distractions for the Best Video Conferencing Setup

You will reduce signal interference by limiting the number of applications that are simultaneously using your network bandwidth. The same is true for the processing power of your computer. To make your video conference run with minimal glitches, close any applications that are eating up the Internet pipe in your home office or that may be gobbling up the power of your CPU. (So, if you've got any kids or roommates streaming on sites like Twitch, ask them to take a break until you're done.)
You should also test out your Wi-Fi before the video conference. While your connection may seem fine for basic tasks, a video conference can take up a lot of juice. If your Internet speed and Wi-Fi are slow or choppy, you may experience difficulties during the call. You may just simply need to move your computer a little closer to your router to get a better signal.
But reducing distractions during your video conference also means that you should not answer an email during your meeting, unless that's considered a standard best practice in your office. Keep children, pets, or other interruptions away during your video conference. If you can close your door, do it.
Like any meeting, there is etiquette involved in video conferencing. Be engaged and try to look into the camera when you talk. Pay attention to those speaking, and follow any rules such as raising your hand either virtually or visually when you want to respond. If you need to share your screen, clear your desktop of any extra programs and be sure to shut off private messaging or other sensitive information.
While these are just a few of our suggestions for the best video conferencing setup, learning the best tricks for how to use these tools is a process of trying what works best for your office setup and your company culture. MegaMeeting has been a go-to video conferencing service of choice for many businesses for 15-years. Online meetings are simple, effective, and powerful with MegaMeeting. You can try our service free for 14 days to see what you've been missing.

---
MegaMeeting solves the biggest challenges of modern video conferencing. For users, it is an all-in-one platform that delivers both video conferencing and webinars in a single, simplified interface. For attendees, it is 100% browser-based, making it highly accessible; joining a meeting is instantaneous from a single click. For enterprises, it is highly customizable, with white-labeling options for a private branded solution. For developers, it is API-driven and easy to integrate.
Powered by WebRTC, Node.js, React, and GraphQL, it is a cutting-edge platform that is fun and easy to use for users and developers alike.